I agonized over what to title this. I didn't want to call it "highlights," because I wouldn't consider all of these to be the most shining examples of my year, nor did I want to call it "picks," because none of these things are from 2020 proper. This is only the second of such a list that I've written, my first being for 2017 over two years ago. I have a good excuse: both of those years had me dealing with personal or professional changes that left reflection over what I had consumed that year the least of my concerns.

This year has been nothing but reflection. I'd say that I've done nothing more this year than look back on my life and what I've done with it while sitting in isolation while the rest of the world seemed to burn around me. As usual, I've ignored all of the media that came out this year—despite it all—to continue plundering the past for its treasures. Along with my usual habit of continually playing comfort shows (never have so many episodes of The Golden Girls done so much for so few), I also managed to find a few new things that brought either some much needed levity, or a fresh perspective for how I engage with art and media.

With that said, here are some of the things I enjoyed in 2020, in no particular order:


The Red Shoes
A film that had sat in my to-watch list for far too long, it really was an inevitability that I would eventually fall in love with Michael Powell and Eric Pressburger's 1948 Technicolor masterpiece. The directing duo's passionate and expressionistic use of color would influence one of my favorite directors, Dario Argento, and the lurid, saturated pallets that compose his giallo films and his auteur horror masterpiece Suspria. The titular ballet is taken from the tale of the same name by Hans Christian Andersen, author of the literary fairy tale "The Little Mermaid" (another one of my favorites). The film is colorful, melodramatic, and an artistic feast for the senses. The twenty minute Ballet of The Red Shoes is the film's pièce de résistance, haunting and beautiful, tied up perfectly with the film's main narrative of possessive love and artistic sacrifice.

I watched The Red Shoes while cooped up in my apartment alone over the summer, and was quickly and completely enchanted by it. I know that I'm a bit late to the party in falling so deeply for this film, but I cannot help but be excited to see so many people enticed by its colorful spell. While it's become my latest must-have Criterion disc, you can also watch it via The Criterion Channel's streaming service.
Pure Invention
Probably my favorite read of the year. Matt Alt's Pure Invention is a brilliant look into how Japan's popular culture has shaped global taste, aesthetics, and even political discourse. Alt focuses on not just any Japanese inventions, but "fantasy-delivery devices" that have terraformed our imaginations and hooked entire generations on Japanese fantasy world. Devices like the Sony Walkman that forever changed our audioscapes, the Nintendo Gameboy that put virtual fantasy-lands into the palms of our hands, and of course, anime like Mobile Suit Gundam that developed huge devoted fanbases that would become their own unique cultures in the form of otaku.

Intricately researched from primary source Japanese documents and in many cases, first-hand interviews with the creators and developers of various cultural artifacts by Alt himself. Pure Invention leaves no stone unturned but still leaves the reader yearning for more. I got the feeling while reading that any of Alt's chapters could be books unto themselves, and you can tell that he has much more to say but understands there is only so much space to tell the story. There is also a wonderful appendix with all of Alt's sources listed with notes and commentary, something unexpected from a book for popular reading but highly appreciated and useful for anyone who wants to plunge the rabbit holes that Alt introduces to the reader.
Superstore
To be fair, I was vaguely aware of NBC's Superstore when it first began airing, mostly because it was aired in the same time slot as Crazy Ex-Girlfriend back when I was watching that. However, after finally breaking down and getting a Hulu account, and hearing its praises sung on the podcast Gayest Episode Ever, I decided to give this show a shot.

I'm glad I did. Superstore is a fun diversion that also has some smart writing that works well as a throwback to classic workplace comedies like Cheers and Taxi without feeling too stale or derivative. While shot single cam like Parks and Recreation, it (thankfully) rejects the mockumentary angle while still retaining the fly-on-the-wall feeling that approach can give. Cheers is a pretty good jumping off point for the type of humor that Superstore employs: well-meaning but intellectually snobby Jonah (our Diane) begins working at a definitely-not-Wal-Mart style big box store called Cloud 9 and learns to adjust to the culture of the store while kindling a romance with his down-to-earth co-worker Amy (our Sam, with the blue collar ethos minus the libido), who has been with Cloud 9 for the past 15 years.
The show was a fun binge watch, but not without commentary on thankless and unforgiving nature of retail work, the ambivalent idiocy of shopping crowds, and the fight for human rights and unionization in big box stores and fulfillment centers. Superstore's characters are eccentric without being ludicrous, diverse without being tokenizing, and funny without sacrificing depth. Jonah's patronizing pop-feminism is skewered more than Diane Chambers's ever was, the put-upon store punching bag Sandra has a wild side plot involving a love triangle and leaving a coworker to seemingly perish in a hurricane, and the main couple's relationship plays out in a much more satisfying way than the typical "will they, won't they" plot line.

And if anything, the show introduced me to the horror of the melon baby.

Taskmaster
A friend of mine introduced me to the British panel show Taskmaster, and I quickly became addicted. An addiction which was made all the easier to indulge due to the fact that eight of its ten series are conveniently uploaded to the show's official YouTube channel for your viewing pleasure.

The series revolves around a panel of five comedians who are given a series of bizarre, nonsensical "tasks", ostensibly doled out by the Taskmaster, comedian Greg Davies, but really concocted by series creator and co-host Alex Horne. These tasks often involve lateral thinking, puzzle-solving, twists in language, creative ingenuity, or simply throwing something to the wall and hoping it sticks (literally). Contestants are asked to perform tasks like hiding a whole pineapple on their person, impressing the mayor of a random British town, ordering a pizza without actually saying "pizza," building a tower of lemons, or making a coconut resemble a businessman. After completing the tasks separately or in teams, the comedians are brought into the studio to justify their reasoning and vie for a bevy of often useless prizes, supplied by their fellow contestants as part of the game.
Lighthearted, devilishly clever, and gut-bustingly funny, Taskmaster became my most watched show last fall. I'd often start with one episode, and say, "well, I suppose one more wouldn't hurt", and quickly marathon four or five of them and spend my entire afternoon howling. Being so easy to watch here in the States, I'd say give it a shot starting with the first series and moving up, as the tasks become more and more ludicrous. A word of warning, avoid the American version (the contestants are more angry than funny, and do not seem to understand that the competition is not a serious part of the show), and maybe wait before you watch series ten if you don't want to be reminded that we live in…er…."unprecedented times".
Chromatica
I can mark my life in Lady Gaga albums.

Sometimes, it really does feel like whenever Mother Monster releases a new album, it becomes a sort of background soundtrack for my life. Which yes, I know, is very, very sad. To be fair, gays in particular seem susceptible to using pop sirens as a sort of guiding light. So let he who is without an obsession with some glam goddess cast the first stone.

Still, starting all the way back with The Fame when I was an awkward teenager to now, with Chromatica releasing as I enter the last half of my graduate program, I can't help but look back at all of the Gaga songs that have stuck with me and informed some understanding of my life to that point. Sure, Artpop (2013) and Joann (2016) being the less, let's say, exciting entries in Gaga's discography (2014's Cheek to Cheek is an outlier) meant that this album had a lot to live up to, but it's been hailed as a return to form, and I'm inclined to agree. While some of the tracks do have a bit of a samey, shallow quality ("Plastic Doll", while catchy, won't win any lyrical awards), the standout tracks like the single "Stupid Love", "Replay", or "1000 Doves*" have the same power that Gaga's songs from her peak in 2010 with Born This Way.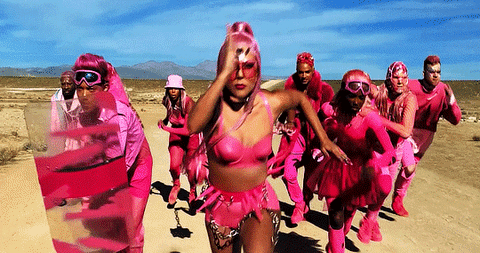 And if anything, the album's second single, the very clearly Final Fantasy VII/Akira/Blade Runner inspired "Rain On Me" completely captured the sentiment of those of us who survived through summer 2020: "I'd rather be dry, but at least I'm alive!"
*Do yourself a favor and listen to the Target exclusive piano version.
Podcasts, Podcasts, Podcasts!
Originally, I was going to have separate entries for podcasts, but that would constitute an entire list on its own. If there was one particular medium that had shaped my 2020, it was the humble podcast. In order to prevent myself from going completely mad stuck in a one-room apartment alone, I began the regular habit of walking for three-hours each day, once in the morning and once in the evening. During these daily strolls, I would burn through numerous podcasts in order to keep myself from, I dunno, listening to the sounds of nature or whatever.

Many of these were old standbys, but I was also turned on to quite a few new podcasts after they became my main source of entertainment. It was fellow Third Impact member Bill who turned me on to Karina Longworth's You Must Remember This, which I was shocked I wasn't listening to already, given my tastes. I began listening to Gayest Episode Ever, having been a reader of one of its co-hosts, Drew Mackie, for some time prior. Tobias turned me on to the show Decoder Ring, which examines pop culture phenomenon, and I also became obsessed with You're Wrong About and its look at misremembered or poorly framed moments in our cultural history. What a Cartoon!, Talking Simpsons, The Video Game History Hour, The Film Scene, MusicalSplaining, I really could go on.
Listening to podcasts while walking, gaming, or doing chores really helped me center myself in a strange, difficult year, and also helped reignite my own passion for producing podcast content. When all else failed, I could always turn to free internet radio to get things back on track.
Honorable Mentions
Mrs Dalloway by Virginia Woolf
Run, Lola, Run
Such a Fun Age by Kiley Reid
Super Mario 3D All-Stars
Derek Jarman's Jubilee
Kawaii International
The Victorian Way with Mrs. Crocombe